Opportunity and Hard Work are the Reasons for Sodiê's Success.
Sodiê Doces began in a small apartment, and today it has more than 320 stores throughout Brazil and two stores in Orlando. It is considered the largest specialized franchise of handmade cakes in Brazil. Embracing opportunities and working hard is how the creator of the brand, Cleusa Maria da Silva, managed to take her business to this level.
Cleusa worked as a cane cutter and a housekeeper before finally getting the opportunity to start her business, which finally came when she became an employee of a company. Cleusa had a boss whose wife baked cakes. Her boss's wife began having health problems and asked Cleusa to help her in the kitchen. As her health problems worsened, she eventually stopped selling cakes and let Cleusa continue the business.
It was by making cakes, doing deliveries by foot, and by improving the recipe with the help of her mother that Cleusa managed to open a small space for her shop. Four years later, she moved the business to a space four times larger than the first one. Cleusa did not know the term franchise until a client asked her about it. Cleusa set out to learn more about franchises by taking classes and researching how to begin a franchise. Ten years and a lot of work later, Sodiê Doces became a franchise.
Today, Sodiê Doces has more than 320 stores throughout Brazil and 2 stores in Orlando. They are located in 17 states of Brazil.
Sodiê Doces cakes come in over 100 flavors and are made with sponge bread, top-quality ingredients, and fresh fruit. You can order a whole cake, which can be ready in about an hour, or enjoy a slice in the store. Sodiê Doces also has a sugar-free line, homemade cakes, snacks, party platters, and other traditional Brazilian snacks!
Our Commitment to

Quality
We believe that bread should be healthy. We want to change the traditional ways of eating bread by using local, fresh and organic ingredients in a better, more nutritious bread that's actually healthy. Our bread is 100% handicraft, and includes veggies such as spinach, kale, sage, basil, nuts, whole grains and superfood ingredients.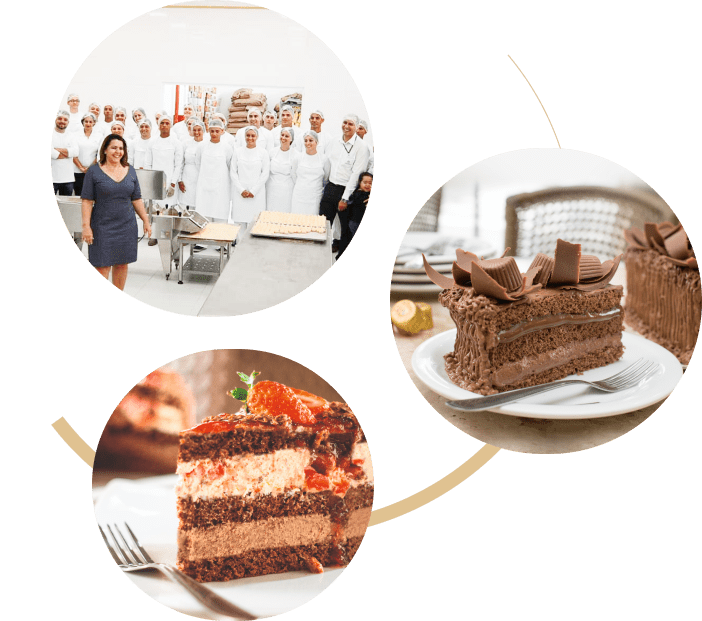 The Best

Ingredients

from Near and Far
Our mission is to introduce the taste of Brazil to the rest of the world. Every ingredient and recipe has the memory of a Brazilian grandma (vovó) in the kitchen preparing for their family's birthday party.
Your (not so) local Orlando cake bakery is right around the corner.
5696 International Drive
Orlando, FL 32819
3120 South Kirkman Road
Suite L
Orlando, FL 32811
Monday-Thursday: 10am - 8pm
Friday-Sunday: 9am - 9pm